This is an archived article and the information in the article may be outdated. Please look at the time stamp on the story to see when it was last updated.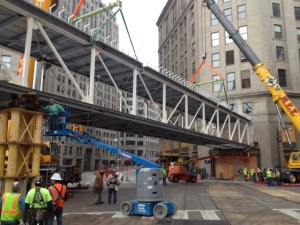 CLEVELAND – Horseshoe Casino has finished installing the steel frame of its pedestrian walkway, which connects the parking garage to the second floor of the casino.
Construction began last month on the 150 feet of the steel frame, which was built on Prospect Avenue in downtown Cleveland.
Crews began the work Friday, and lifted the walkway into place on Saturday by two large cranes.
Construction of the walkway will continue through the end of this year, with an expected completion in early 2014.
When finished, the climate-controlled walkway will provide another way for guests to enter the casino while sheltered from the harsh winter weather.
Entrances to the casino on Prospect Avenue and Public Square will remain open when the walkway is completed in early 2014.