This is an archived article and the information in the article may be outdated. Please look at the time stamp on the story to see when it was last updated.
LONDON, England– London's red double-decker buses are some of the city's most iconic features. But for daily commuters, they're just a normal sight.
Unless there's a horse trying to board.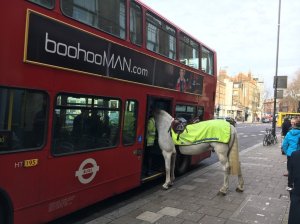 The number 43 bus traveling through North London's borough of Islington caught the attention of Jersey politician Simon Crowcroft, who was visiting friends in London on Tuesday morning.
Crowcroft snapped some now-viral photos of Invictor, a horse assigned to police constable Dan Smith of the Metropolitan Police's Mounted Branch, as it tried to board the bus.
No, Invictor wasn't trying to hitch a ride across town. The horse was following Smith, his rider, who had dismounted to help a man who had collapsed on the bus.
"You couldn't see anything inside the bus, as a big horse was in the way. But it was obvious a mounted police officer was assisting at the scene," Crowcroft told a local paper, the Islington Gazette.
Invictor was applauded as a "team player" in a message posted on the Metropolitan Police Task Force's Twitter account.
Crowcroft also told the Gazette that he was "happy the pictures have been so widely shared because it emphasized the role that police play in looking after the community, which can often go unnoticed."
A spokesperson for the Metropolitan Police told CNN that the man who fell ill was treated by paramedics at the scene and then taken to a hospital "as a precaution."