This is an archived article and the information in the article may be outdated. Please look at the time stamp on the story to see when it was last updated.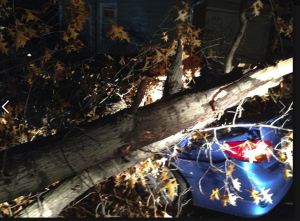 CLEVELAND —Strong winds and heavy rain are leaving behind damage in several locations in Northeast Ohio.
The high winds blew down trees and power lines in a number of communities, hitting Vermilion and areas in Lorain County particularly hard.
*CLICK to check out more storm damage pictures*
Cleveland police say the strong storms took down trees in Cleveland, but there was no serious damage.
While many residents are cleaning up, others are in the dark. Some 18,438 residents throughout Northeast Ohio are without power.
*** Click here for updates from FirstEnergy ***
The severe weather also impacted flights coming and going from Cleveland Hopkins International Airport.
Hopkins issued a ground stop for a few hours but that has been lifted, however, many flights are cancelled or delayed. Click here for live updates from the airport.
The ground stop at CLE has been lifted. Please check http://t.co/YIIpn6hGd9 for your flight status.

— Cleveland Hopkins (@goingplacesCLE) November 18, 2013
** Click here for flight information from Cleveland Hopkins Airport **
A FOX 8 viewer caught the strong storm on video as it rolled in over Lake Erie. Watch the time lapse video below.