This is an archived article and the information in the article may be outdated. Please look at the time stamp on the story to see when it was last updated.
Now that the holidays are here, so are social media posts about a gift exchange that promises you'll get between 6 and 36 gifts if you participate.
Don't fall for it — it's a scam!
The same scam surfaced last year, too. It's most widely shared as a "secret sister" gift exchange. But it is showing up in other forms, too.
Participants are promised they will receive 36 gifts after only sending one gift valued at $10. Here's an example: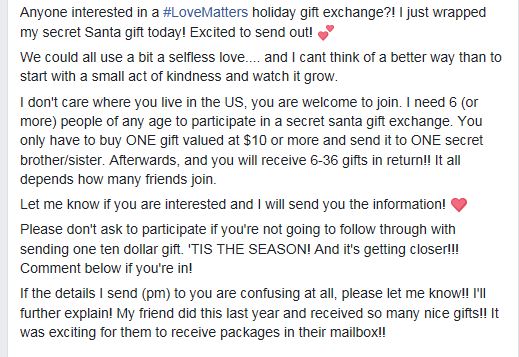 Even police departments are warning social media users about the scam.
The idea behind the "exchange" is similar to chain letter gift exchanges that were popular in the 90s and email chain letters that were common in the early 2000s.
Despite the probability that most participants will never receive the promised avalanche of holiday gifts, it's also worth noting gift chains are illegal.
According to the U.S. Postal Inspection Service:
"There's at least one problem with chain letters. They're illegal if they request money or other items of value and promise a substantial return to the participants. Chain letters are a form of gambling, and sending them through the mail (or delivering them in person or by computer, but mailing money to participate) violates Title 18, United States Code, Section 1302, the Postal Lottery Statute. (Chain letters that ask for items of minor value, like picture postcards or recipes, may be mailed, since such items are not things of value within the meaning of the law."