This is an archived article and the information in the article may be outdated. Please look at the time stamp on the story to see when it was last updated.
[protected-iframe id="c237c67fea4002429b77ecd616d92237-28572381-29052445″ info="//cdn2.trb.tv/iframe.html?ec=hkNWRnZDE6O8fUO3q1dtCHNScpZLGr-u&pbid=f987944e2b8d47c5ad7da7977780b8bd&pcode=9vOTQyOvfOKTDwM65FXm0S1biBeX" width="640″ height="480″ frameborder="0″ allowfullscreen=""]
If you're one of the nearly 51 million Americans hitting the roads and skies this Thanksgiving, you'll have plenty of company.
AAA says the 2017 holiday weekend will see the highest Thanksgiving travel volume since 2005.
"An uptick in the economy has given travelers plenty to be thankful for this year, and we expect travel to remain plentiful through the holidays," Jim Lehman, President, AAA East Central, said in a news release. "Most Americans can enjoy time spent with friends and family."
According to AAA, the Thanksgiving holiday travel period is defined as Wednesday, Nov. 22 through Sunday, Nov. 26.
AAA estimates that more than 89% of people will travel by car. That's up 3% from last year.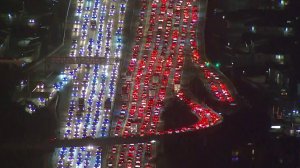 In Los Angeles, traffic was backed up for miles on the 405 Freeway Tuesday night as Thanksgiving travelers mixed with evening commuters. According to KTLA, Wednesday's traffic is expected to be just as bad for drivers in L.A.