This is an archived article and the information in the article may be outdated. Please look at the time stamp on the story to see when it was last updated.
CLEVELAND, Ohio -- Hillary Clinton kicked off her campaigning as a presumptive Democratic presidential candidate at Cleveland Industrial Innovation Center today.
Introduced by Sen. Sherrod Brown, Clinton made it clear that in light of the shooting massacre in Orlando, her speech would be much different from what she originally planned.
"I originally intended to come to Cleveland under much different circumstances. But today is not a day for politics," she said.
An American-born man who'd pledged allegiance to ISIS gunned down 49 people early Sunday at a gay nightclub in Orlando, the deadliest mass shooting in the United States and the nation's worst terror attack since 9/11, authorities said.
Clinton said it is important to remember the victims, their families and first responders.
"This is a moment when all Americans need to stand together," she said.
She emphasized that the threat of terrorism and radicalizaion of both groups and "lone wolves" like the Orlando gunman is "metastasizing."
She pledged that as president, she would make identifying such individuals a priority.
She said there are three areas that need attention when it comes to fighting terrorism.
First, she said the U.S. and its allies need to identify the networks providing money, weapons and other support to terrorists all over the world.
Second, she said, "we must harden our own defenses here at home. Help support law enforcement that risks their lives." She said it's imperative that the country give law enforcement the proper resources and supplies to stay safe as they fight terrorists.
"Even as we make sure our security officials have the tools we need, we need to stop terrorists from getting the tools they need to carry out attacks," she added.
She spent a lot of time talking about the availability of assault weapons in the U.S.
"I believe weapons of war have no place on our streets," she said. "We have to make it harder for people who should not have those weapons of war…it will stop some and it will save lives."
She said the third area of attention should be  preventing radicalization and preventing ISIS from recruiting in the U.S. and Europe. She said the country has to use its capabilities to better counter jihadist propaganda online and "do a better job of intercepting ISIS's communications."
She added that officials need to encourage healthy, supportive relationships with the "millions of peace-loving Muslims" across the world . She said they are most likely to recognize the signs of radicalization in individuals before it's too late.
"We should be intensifying contacts in those communities...not scapegoating and isolating them," she said.
She closed by reminding the crowd that it's important to stick together in America.
Clinton says she remembers how it felt on the day after 9/11: Americans from all walks of life rallied together.
"It is time to get back to the spirit of those days," she said. "The spirit of 9/12. Let's make sure we keep looking to the best of our country…to the best within us."
She briefly mentioned George Voinovich, the former Cleveland mayor, Ohio governor and senator, who passed away on Sunday.
"He devoted his life to the people of Ohio…and we send our prayers and sympathy to his family," she said.
She did not mention Republican presidential candidate Donald Trump by name.
Read more from Monday's event in the blog below.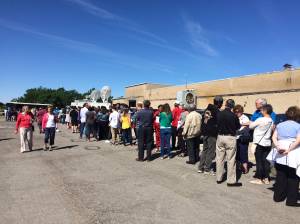 Her campaign says Clinton had a fundraiser scheduled tonight in Cincinnati, but it has been postponed in light of the shooting in Orlando.
Clinton will be back in Ohio next Wednesday for an event in Columbus.
More on Hillary Clinton here.