This is an archived article and the information in the article may be outdated. Please look at the time stamp on the story to see when it was last updated.
NIMISHILLEN TOWNSHIP, OH - The Ohio State  Highway  Patrol is asking for help in finding the suspect in a hit and run accident that occurred on Thursday, July 2nd.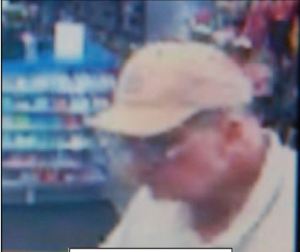 It happened on State Route 44, just south of U.S. Route 62 in Nimishillen
Township, which is in Stark County. A 2015 Honda Shadow motorcycle was driving south on State Route 44 when it was hit by a pickup truck coming out of a nearby Marathon Gas Station. The motorcyclist suffered non-life-threatening injuries, bu the driver of the truck left the scene, driving north on 44.
Video from the gas station shows an older white male with gray hair and glasses who is believed to be the driver of the pickup.
The pickup truck, which police say did not yield the right of way, is a newer model gray Chevrolet Silverado crew cab.
Anyone with information on the vehicle or suspect is asked to contact the
Ohio State Highway Patrol at 330-433-6200.