This is an archived article and the information in the article may be outdated. Please look at the time stamp on the story to see when it was last updated.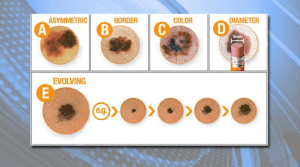 It's a story that's getting national attention this week: the rising number of skin cancer cases among young people.
It all started with a viral picture posted by a 21-year-old woman with skin cancer. She shared it to warn others about the dangers of tanning beds.
**For that viral story, click here**
One of our own Fox 8 producers, Carrie Young, also has a very personal and important story -- she was diagnosed with melanoma at the age of 23.
She, in part, attributed it to tanning beds. She shared her story with us today.
And with May being prom season as well as Skin Cancer Prevention Month, Dr. Marc Gillinov joined in on the conversation to talk about the importance of sun screen and the risks we face if we once worshiped the sun or tanning beds.