This is an archived article and the information in the article may be outdated. Please look at the time stamp on the story to see when it was last updated.
FUZHOU CITY, China (CNN/CCTV) — Doctors in China are taking a unique approach in the treatment of a man whose nose was badly injured in a car accident.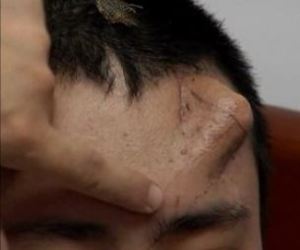 They're having a new one grown on his forehead.
The man is 22 and couldn't afford reconstructive surgery following his injury.
His nose became badly infected, so doctors used skin and cartilage from his ribs to grow a new one over about nine months.
They say it's almost ready to be transplanted into the right spot.