This is an archived article and the information in the article may be outdated. Please look at the time stamp on the story to see when it was last updated.
FAIRVIEW PARK, Ohio —  A small dog was rescued from a hot vehicle by a good Samaritan, as temperatures soared near 90 degrees recently with a heat index around 92.
Fairview Park Police Lt. Paul Shepard says it's the first time a person has pulled a dog from a vehicle since the law was passed in 2016 allowing people to save animals and children without fear of recourse.
It happened when a family stopped at the city's library and left their small dog inside of their van in the parking lot.
"Basically, the family only intended to go in there for about 5 minutes," said Lt. Shepard.
However, the short stop turned into about 30 minutes during which time another woman arrived, heard the dog barking and called 911.
On the recording she tells the dispatcher, "There's a dog locked in a car here, and the dog's standing in the window panting and barking; I'm afraid it's going to overheat and die."
Surveillance video shows the woman going to the van and getting the dog out.
"She manipulated the window so the dog could crawl out to her," said Lt. Shepard.
Police arrived within minutes and paged the family, who became upset that someone had their dog.
They told police they left water and food inside of the van and the windows cracked.
The family could have, but did not face animal cruelty charges because there was no evidence to support the charges, and the dog was okay.
Lt. Shepard said, "By the time our officer got there, the well-intentioned person got water for the dog, but it would've been nice to see how hot it was inside of the car; we don't know because they let the dog out."
The dog's owners were counseled on the dangers of leaving an animal in a vehicle.
According to the American Veterinary Medical Association, hundreds of dogs die in hot vehicles every year, where temperatures can rise 20 degrees in just ten minutes.
Cracking windows has very little effect on the temperatures inside the vehicle.
Good Samaritans should call the police, document the vehicle's information, and monitor the dog while waiting for officers to arrive.
They can try giving the animal water through the cracked window, but should only remove the pet if there are signs of serious distress or heat stroke.
Symptoms of canine heat stroke include heavy panting; thick saliva; dark tongue and gums; restlessness; vomiting and diarrhea; and excessive thirst.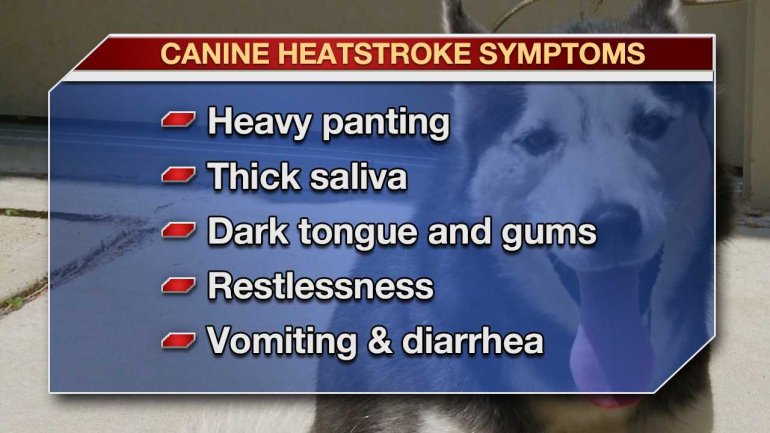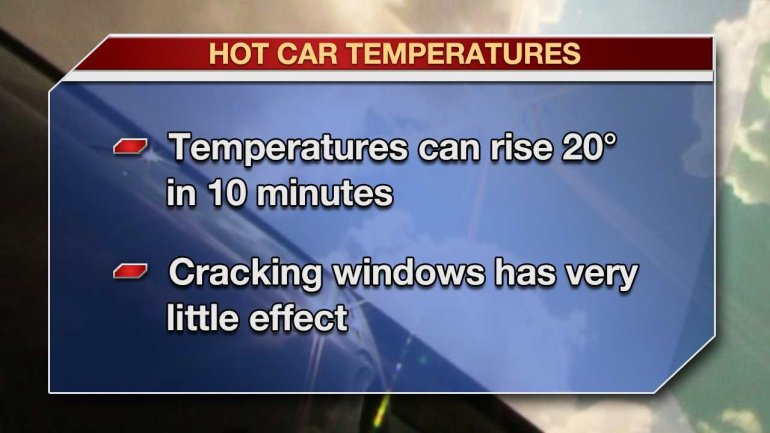 Lt. Shepard says prevention and avoiding a tragedy is always best so if you're going places or running errands just leave the animal safe at home.