This is an archived article and the information in the article may be outdated. Please look at the time stamp on the story to see when it was last updated.
CLEVELAND, Ohio -- The Cleveland Clinic has performed the first deep brain stimulation surgery as part of a stroke recovery clinical trial.
According to a re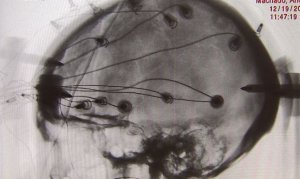 lease from the Cleveland Clinic, the team was led by Dr. Andre Machado, chairman of the Cleveland Clinic's Neurological Institute. The six-hour surgery was performed Dec. 19.
During the procedure, electrodes were implanted in a part of the patient's brain. The electrodes, which are connected to a pace-maker device, provide small electric pulses as a way to help people recover control of their movements.
"If this research succeeds, it is a new hope for patients that have suffered a stroke and have remained paralyzed after a stroke. It is an opportunity to allow our patients to rehabilitate and gain function and therefore gain independence," Dr. Machado said in the release. "Our knowledge to date shows that deep brain stimulation can help the brain reorganize, can help the brain adapt, beyond what physical therapy alone can do. The goal of our study is to boost rehabilitation outcomes beyond what physical therapy alone could achieve."
Over the next few weeks, the patient will recover from the surgery and begin physical therapy.
Then, the device will be turned on. The patient will then be monitored and evaluated regularly to determine how the device can boost the effects of physical therapy.