This is an archived article and the information in the article may be outdated. Please look at the time stamp on the story to see when it was last updated.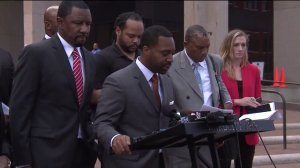 CLEVELAND — Community leaders and activists said Tuesday they want the officers involved in the shooting death of Tamir Rice, 12,  arrested on several charges including murder.
Fox 8's Peggy Gallek was in court as eight community activists filed affidavits for probable cause, asking for a judge to issue arrest warrants for the two officers involved.
Judge Ronald Adrine said he would consider the filings and make a ruling. It's not clear how long it may take for a decision.
Police shot and killed Rice last November. They received a call about a male pointing a gun at people outside the Cudell Recreation Center. Investigators found he had an air soft pistol that looked like a powerful handgun.
The investigation is currently in the hands of the Cuyahoga County Prosecutor's Office.
In a press conference held after the documents were filed, speakers said that Rice would be alive if he were white. They also said the group wants justice for Rice. The Rice family's attorney, Walter Madison, who is also representing the group, also spoke.
He said the group wants the officers arrested on several charges including murder.
Before the documents were filed Tuesday, Prosecutor Timothy J. McGinty said in a statement:
"Once the investigation is complete — and in the death of Tamir Rice, it is not at this time — all evidence and expert analysis will be presented to the Grand Jury. The Grand Jury in Cuyahoga County, by the policy of the County Prosecutor's Office, ultimately makes the charging decision in all fatal use of deadly force cases that involve law enforcement officers ."
Rev. Dr. Jawanza Colvin, pastor of Olivet Institutional Baptist Church, said in a release:
"We are still waiting for the criminal justice system to enact justice in the name of Tamir Rice. It has been more than six months since his tragic death and, yet, the people still have no answers and no one has been held accountable. Today, citizens are taking matters into their own hands utilizing the tools of democracy as an instrument of justice."
Steve Loomis, President of the Cleveland Police Patrolmen's Association, released the following statement to the FOX 8 I-Team:
"Talk about a grandstand of vigilantism. This is yet another attempt to totally disrespect and disregard our justice system.

The same ambulance chasing attorneys that demanded a "transparent investigation from an outside agency be completed", and that the facts of that investigation "be presented to the Grand Jury", have now changed their minds. These same folks now want to bypass not only the independent investigation they demanded, but the grand jury system as well.

While those with agendas continue to disregard evidence, rules of law, and fact, in lieu of the self serving, emotional and fictitious claims, the Ferguson Effect continues to grow. The unfortunate and unintended result we be that those that need us the most will be made to suffer from increasing lawlessness of an emboldened criminal element.

The continued attacks on police officers and our justice system will only serve to increase the "Ferguson Effect" among police officers.

While these ambulance chasers continue to demand police officers be "held accountable" for their actions they are seemingly never content with that accountability. They also NEVER hold the involved suspects accountable for their actions and continue to ignore the generational and decades old issues that continue to degrade and plague our society.

It continues to amaze me that while police involved shootings represent less than 1% of ALL shootings nationwide, they represent nearly 90% of the story line of national, state, and local media coverage.

The vast and mostly silent majority of law abiding, God fearing citizens are sick of these attacks on police officers and support the very difficult and absolutely necessary jobs we do."
Continuing coverage of the shooting of Tamir Rice here.