This is an archived article and the information in the article may be outdated. Please look at the time stamp on the story to see when it was last updated.
CLEVELAND– A group protested outside Cuyahoga County Children and Family Services on Monday following the death of a 4-year-old girl.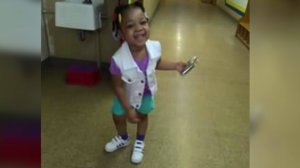 Paramedics were called to an apartment on Lakeshore Boulevard in Euclid on March 11 for an unresponsive child. Aniya Day, 4, was taken to Euclid Hospital, where she was pronounced dead.
The Cuyahoga County Medical Examiner's Office said Aniya suffered from blunt impacts to the head and malnutrition.
The girl's mother and her boyfriend were charged with aggravated murder in the case. Sierra Day and Deonte Lewis are held on $1 million bond.
Demonstrators claim children and family services failed Aniya, as well as 5-year-old Ta'Naejah McCloud and 4-year-old Jordan Rodriguez. They are calling for a federal investigation into the agency's practices.
"We have to make a difference," said Mickhal Garrett, Aniya's father. He led the crowd as they chanted, "Justice for Aniya!"
"I hope and pray a difference is made, a difference is made today. Now. Now. I'm just hoping a difference is made because I don't want this to happen to any other children on this earth."
He thanked the other protesters for their support.
"It means the world to me. It means my life. Aniya's life was taken innocently like other children in this world and that's why we're here today together. We're here together to stop it and make a difference, a change," Garrett said.
A year ago, Ta'Naejah was beaten to death by her mother, Tequila Crump, and her mother's friend, Ursula Owens, police said. Other children in the home allegedly witnessed the beating and attempted to perform CPR before paramedics arrived.
Investigators found Jordan's body buried behind his family's house on West 80th Street in Cleveland in December. The boy died in September and his body showed signs of abuse, including broken ribs.
His mother, 34-year-old Larissa Rodriguez, was charged with murder, felonious assault, endangering children and offenses against a human corpse. Children's services provider Nancy Caraballo was indicted on trafficking in food stamps related to the case.
Continuing coverage of this story here