This is an archived article and the information in the article may be outdated. Please look at the time stamp on the story to see when it was last updated.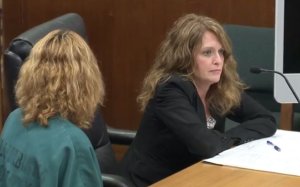 EAST LIVERPOOL, Ohio -- The woman in a graphic photo, who was seen passed out in a car after allegedly overdosing on heroin, pleaded no contest to her charges in court Thursday.
Rhonda Pasek previously pleaded not guilty to endangering a child, disorderly conduct and public intoxication. She withdrew that plea and entered a plea of no contest.
She was sentenced to 180 days in jail and fined $280 on the child endangering charge. She was also fined on her other charges.
The infamous photo, distributed by the East Liverpool Police Department, showed Pasek sitting in the passenger seat slumped next to the unconscious driver. Meanwhile, her 4-year-old grandson was seated in the back, looking out the window.
Six weeks before her arrest on September 7, she had been granted custody of her grandson, said Dane Walton, administrator for the Columbiana County Juvenile Court. The boy's parents had been unable to raise him. He will now live with his great-aunt and great-uncle in South Carolina, Walton added.
Last week, a police officer spotted a car weaving erratically between lanes, according to an affidavit.
The driver, James Acord, was trying to tell the officer that he was transporting Pasek to the hospital, when he lost consciousness.
Paramedics administered Narcan, an opiate reversal agent, to Pasek, who was turning blue, according to an affidavit. The pair "almost definitely" would have died had police not intervened, East Liverpool service safety director Brian Allen had told CNN.
Acord pleaded no contest to operating a vehicle while impaired and endangering a child. He was sentenced last week to 360 days in jail, had his driver's license suspended for three years and was fined $475.
The city of East Liverpool said it released the photos of the pair to raise awareness about the perils of heroin.
"This child can't speak for himself but we are hopeful his story can convince another user to think twice about injecting this poison while having a child in their custody," the Facebook post read.