This is an archived article and the information in the article may be outdated. Please look at the time stamp on the story to see when it was last updated.
CLEVELAND – The family of a murdered three year old boy says someone fired gunshots at their home.  The shooting comes after a series of threats that the family of Major Howard says they have received in recent months.
No one was hurt, but Major Howard's grandfather believes the gunshots fired at the home were meant to intimidate him and his family.  For four months, they have been searching for justice…actively trying to get the main suspect, who remains on the run, behind bars.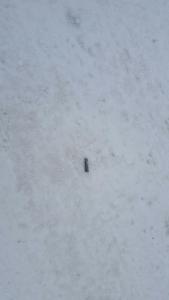 "I just heard two booms, like 'boom, boom," said Victor Freeman, Major's grandfather.
Freeman says he was watching television around 1:00 p.m. Monday when someone fired two shots at his east side Cleveland home.
"I see a truck going down the street, but at first, I didn't know what it was, and my neighbor called me from across the street and told me, she said 'that truck was just shooting at your house," said Freeman.
Cleveland police recovered two shell casings from the street, but say no bullets actually hit the house.
"My level of fear has really not changed any, I'm gonna stand strong, I'm not gonna run, I'm not gonna hide," Freeman said.
September 15th, Freeman's three year old grandson Major Howard was caught in the crossfire while sitting in a car during a drive-by shooting on East 113th Street.  He was struck by a bullet and later died.
Last week, U.S. Marshals arrested 23-year old Aaron Dunnings.  He was charged with aggravated murder.  But the main suspect, 23-year old Donnell Lindsey is still on the run.
"Somebody in this city knows exactly where Donnell Lindsey is…understand that Donnell Lindsey fired shots from a car and hit a young baby, three years old who did not deserve to die," Freeman said.
Since the killing, Victor Freeman and his family have regularly handed out fliers across the city, hoping someone can help put Lindsey behind bars.
He says he and his family, including his teenage son, have been harassed and received threats.
"Whoever it is, I mean…you gotta realize that we didn't do anything to you, we're just trying to get justice," he said.
Cleveland police say they will pay special attention to the Freeman's home and beef up patrols in the area.  Victor Freeman has one message for Donnell Lindsey.
"You took a life, turn yourself in," he said.
**CLICK HERE for continuing coverage. **Watch a past report in the video above**