This is an archived article and the information in the article may be outdated. Please look at the time stamp on the story to see when it was last updated.
COLUMBUS, OH – Gov. John Kasich kicked off his campaign in Ohio with a special guest, when former California Governor Arnold Schwarzenegger joined him Sunday for a "Battleground Ohio" campaign rally in Columbus.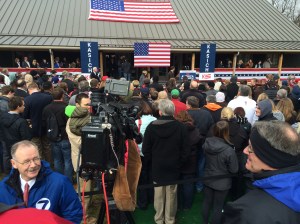 Schwarzenegger spoke ahead of Kasich, both honoring the late Nancy Reagen who passed away Sunday morning.
Schwarzenegger endorsed Kasich, talking about how his balanced budget and ability to create new jobs is what America needs. He called America a "land of opportunity" that gave him what he needed to be successful.
He added that so much work needs to be done in Washington and Kasich needs to "take charge and be at the White House."
Kasich also said some kind words about Nancy Reagan, comparing her caring relationship with her husband Ronald Reagan to his relationship with his wife. She will be joining him on his next few campaign stops.
He told the crowd they were special and needed to remember that nobody else is like them, saying that when people work together, they make up a beautiful mosaic.
He added that schools need to be rebuilt, the drug problem needs to be controlled, communities need to be connected and said "welfare is not a way of life, it's a way of getting out of the ditch."
He concluded his speech by thanking the crowd and saying "we will move America forward."
The Governor sat down with FOX 8's Gabe Spiegel for a one-on-one interview after the Republican debate in Detroit. Gabe was the only local reporter to speak with the presidential candidate Friday morning. Click here to listen to the interview 
 Kasich will also be in Broadview Heights on Tuesday night for a rally. That rally is being held at the Ohio CAT headquarters on Royalton Road in Broadview Heights. Doors open at 4:30 p.m. and the event starts at 5 p.m.
Click here to RSVP to the Tuesday event.
More You Decide 2016 stories here