This is an archived article and the information in the article may be outdated. Please look at the time stamp on the story to see when it was last updated.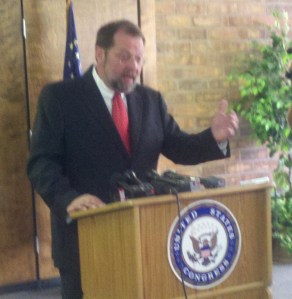 PAINESVILLE, Ohio — U.S. Rep. Steve LaTourette will not seek re-election in November, the Ohio Republican said Tuesday.
Speaking at a news conference in Painesville, LaTourette said he was frustrated with partisan politics saying "there's no common ground" and that it was time for a "good policy." He noted that the "current climate" in politics had taken a toll on him as a person.
"The expectation is if you wanna go up in the ranks of either party, you got to give them your wallet and your voting card. The overwhelming criticism for me is that I vote funny according to my party and I'm not interested in giving them my wallet or my voting card," he said.
LaTourette also took the time to express his gratitude toward voters for putting him into office. He did not immediately reveal his post politics plans.
LaTourette was the key Republican advocate for the so-called Simpson-Bowles deficit reduction and budget plan, which ultimately failed in the House. He had predicted the plan would get more than 100 votes, but the measure fell short by a wider margin.
Ohio Reps. Steve Austria, a Republican, and Dennis Kucinich, a Democrat, have previously announced they will not seek re-election to the House.
LaTourette won re-election in 2010 with 65% of the vote, and since his first election, has consistently won more than 50% of the votes cast.
Stay with Fox 8 News as more details become available.
— The CNN Political Unit, CNN Senior Congressional Producer Deirdre Walsh, and Fox 8 reporter Elisa Amigo contributed to this report.