This is an archived article and the information in the article may be outdated. Please look at the time stamp on the story to see when it was last updated.
CLEVELAND -- The aunt of one of the women recovered Monday after having been missing for a decade kept repeating, "God works in mysterious ways."
Sandra Ruiz, who is related to Gina DeJesus, has been updating the media as the family spokesperson.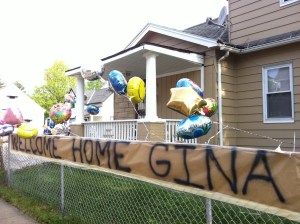 On Tuesday, she spoke live on Fox 8 News.
"If you don't believe in miracles, I suggest you think again.  Cause it does happen," Ruiz said.
DeJesus went missing on her way home from school in April 2004 at the age of 14.
She was found in a Seymour Avenue home on Cleveland's west side along with Amanda Berry and Michelle Knight.
Berry vanished in April 2003.  Knight disappeared in 2002.
"Unbelievable, these girls, these women are so strong, stronger than I am.  And they all have a positive attitude, and this is what we need for everyone.  We still need to be a family," Ruiz said, referring to communities.  "Watch who your neighbor is."
DeJesus, Berry and Knight were evaluated at MetroHealth Medical Center then released.
According to Ruiz, DeJesus recognized her family members when she saw them.
Three men have been arrested in connection with the women's disappearance.
*Click here for extended coverage on this story …