This is an archived article and the information in the article may be outdated. Please look at the time stamp on the story to see when it was last updated.
By Kevin Bohn, CNN Senior Producer
WASHINGTON (CNN) — Former Arizona Congresswoman Gabby Giffords and her husband, Mark Kelly, are in Alaska Tuesday on the second stop of a week-long, seven state tour across the nation trying to build public support for enhanced background checks for gun purchases.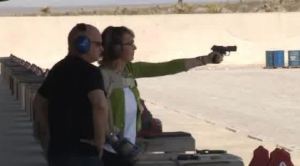 The stops are specifically aimed at states where Senators voted no in April, such as Sen. Joe Heck (R-Nevada) and Sen. Mark Begich (D-Alaska), or those who voted yes, including Sen. Susan Collins (R-Maine), for the Manchin-Toomey background check provision that would have brought enhanced background checks to guns bought at shows or over the internet.
The couple is calling it the "Rights and Responsibilities" tour, which is sponsored by the group, Americans for Responsible Solutions, which they formed in January to help reduce gun violence in the wake of the Newtown, Connecticut elementary school shooting in December.
On Monday, during their first stop in Las Vegas, Giffords and Kelly, who pride themselves as gun owners and proponents of the Second Amendment, went to a gun range and shot – the first time the former congresswoman had done so since she was gravely wounded in her hometown of Tucson, Arizona in January of 2011. Giffords and Kelly also met with local leaders at the Latin Chamber of Commerce.
"Days before we celebrate our Declaration of Independence and the values that make our nation great, I am taking this week to pay tribute to the Second Amendment — both the rights it bestows and the responsibilities it requires. Some might consider me an unlikely advocate for gun rights because I sustained terrible injuries in a violent shooting. But I'm a patriot, and I believe the right to bear arms is a definitive part of our American heritage," Giffords wrote in an op-ed published Tuesday in USA Today.
"We can't stop every person who is determined to do harm, but common-sense measures can prevent tragedies. Expanding background checks will help create a uniform standard for all gun purchases and prevent criminals and the dangerously mentally ill from obtaining powerful weapons," she also said in the column.
"I know there will always be some in Congress who remain in the grip of special interests," Giffords wrote.
While she discussed how a majority of Americans still supports the idea of expanding background checks, the strength of the gun lobby is evident in the defeat of the measure in April and the chances of it being brought back up for a second vote are not clear as the National Rifle Association continues to fight the proposal.
With additional stops in North Dakota, Ohio, New Hampshire, Maine and North Carolina in the coming days Giffords summed up her goal in the op-ed: "we'll celebrate those who vote yes, and we'll notice those who ignored their constituents."