This is an archived article and the information in the article may be outdated. Please look at the time stamp on the story to see when it was last updated.
CLEVELAND–  Giant Eagle Incorportated is voluntarily recalling multiple products prepared with romaine lettuce.
The recall comes after a US Centers for Disease Control and Prevention notice on romaine lettuce sourced by a supply partner from the Yuma, Arizona growing region. The lettuce is to blame for a multi-state  E. coli outbreak, according to the CDC.
This includes romaine lettuce products sold at Giant Eagle, Market District and GetGo locations in Ohio, western Pennsylvania, West Virginia, Maryland and Indiana.  The products were packaged from April 9th to April 13th and were sold in clear plastic containers.
The following products are also subject to recall: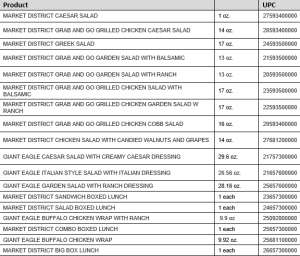 There are no reported illnesses among Giant Eagle customers to date associated with this recall.
Symptoms of E. coli typically begin two to eight days after consuming the bacteria, although most patients become ill three or four days after consumption. Symptoms include severe stomach cramps, diarrhea and vomiting. Most people recover in five to seven days. Those most at risk for E. coli illness include the very young, the very old and individuals with compromised immune systems.
The CDC recommends asking grocery stores and restaurants to confirm their chopped romaine is not from Yuma.