This is an archived article and the information in the article may be outdated. Please look at the time stamp on the story to see when it was last updated.
By FOX 8 News Producer Chris Gibilisco
Registration is open for the FOX 8 Fox Trot presented by Northern Ohio Honda Dealers
The race will take place Sunday, August 25, at Voinovich Park.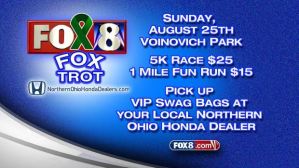 You can either run in the 5K race or walk in the one-mile fun run.
All of the proceeds and donations from the race will benefit the MetroHealth Foundation's Brain Injury Program, to help families all around Northeast Ohio.
After you register, you can stop by your local Northern Ohio Honda dealer to pick up your free, limited-edition swag bag!
CLICK HERE for more on the FOX 8 Fox Trot.