This is an archived article and the information in the article may be outdated. Please look at the time stamp on the story to see when it was last updated.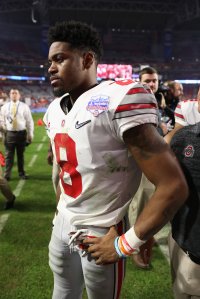 CLEVELAND —  A former Ohio State cornerback says sexual assault allegations made against him are "untrue, wrongful, and malicious."
Vantage Management Group released Gareon Conley's statement Wednesday afternoon.
"The allegations against me concerning the night of April 8/9 that have recently been reported in multiple media outlets are completely false," Conley wrote in his statement. "I did not commit a crime and have not been charged with a crime."
A woman told police on April 9, that she was sexually assaulted by Conley in a hotel room at the Westin Hotel in Cleveland.
No charges have been filed, and Cleveland police are investigating.
**Coming up tonight on FOX 8 News at 5 p.m., the FOX 8 I-Team has obtained the exclusive video from Gareon Conley from the night of the alleged incident**
Atty. Joseph Ritzler, who represents the woman, says his client is very distraught, and is seeking counseling. He said she is cooperating with the investigation and never wanted the matter to be made public.
"She is a very private person," Ritzler said.
Conley has not yet made a statement to police. His attorney, Kevin Spellacy, said he and Conley are meeting with Cleveland police investigators Monday.
Spellacy says he believes his client is innocent.
"I have received calls from all over the United States from people talking about Gareon's outstanding character," Spellacy said.
He said his client is still hoping to be drafted in the upcoming NFL draft.
"I pride myself on doing things the right way on and off the field," Conley wrote in the statement. "The things being said about me and what happened that night are not true and don't fit my character at all. I realize that I put myself in the situation and I could have used better judgment. However, I worked tirelessly to put myself in position to have the honor of being an NFL draft pick and these untrue allegations are putting a huge cloud over my name and the NFL draft."
Read Conley's entire statement