This is an archived article and the information in the article may be outdated. Please look at the time stamp on the story to see when it was last updated.
ASHTABULA, Ohio– Friends and family members of a young mother who was found dead in July are holding a fundraiser Saturday .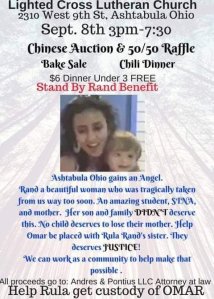 Kat Loveland of Ashtabula is working with Rand Al Dulaimi's family and holding a fundraiser to raise money to pay attorneys to help Rand's sister get custody of her young son.
The fundraiser is from 3 to 7:30 Saturday at Lighted Cross Lutheran Church in Ashtabula.
Al Dulaimi's body was found in July a few weeks after she was reported missing. She leaves behind a young son, Omar.
Sheriff Bill Johnson says her estranged husband, Jeffrey Stanley ,is a person of interest in her disappearance and death .
He has not been charged in connection with her death. He is facing unrelated child pornography charges in federal court.
Al-Dulaimi's family lives overseas. Her sister has been trying to get to the United States.
Continuing coverage on this story, here.