This is an archived article and the information in the article may be outdated. Please look at the time stamp on the story to see when it was last updated.
CLEVELAND -- If you went down to Voinovich Park on Aug. 25 for the FOX 8 FOX Trot or were a part of it in any way, you made a big difference in the lives of patients and families dealing with brain injuries.
On Friday, we learned just how big of an impact.
During Fox 8 News in the Morning, Fox 8's own Stefani Schaefer presented a check for $33,000 to The MetroHealth Foundation's Brain Injury Program.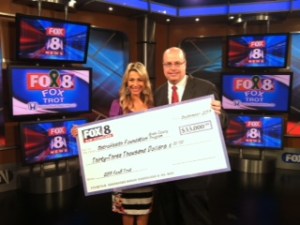 It will be used to buy new equipment and enhance technology used on the unit, a place where miracles are said to happen.
"We have to reset broken lives again," said Dr. James Begley, who accepted the check.
Schaefer has seen some of those miracles with her own eyes.
Her husband, Roger, received extensive treatment at Metro after he took a fall off scaffolding at a construction site in April 2012.
Click here for more updates on Roger ...
The final numbers on the FOX Trot attendance were also released Friday.
A total of 2,645 people participated, with 1,182 walkers and 1,463 running the 5K.
"On behalf of FOX 8, I want to sincerely thank everyone who donated or took part in the FOX 8 FOX Trot," said Fox 8 News producer and race organizer Chris Gibilisco.  "Thanks to you, we raised almost $33,000 for The MetroHealth Foundation's Brain Injury Program. If you were there, you know what a special day it was for everyone involved. We can't wait to see you next year!"
"When we came up with the run idea, I knew immediately where the money should go! Metro's brain trauma unit," said anchor and race organizer Bill Martin.  "Not only because we love Stef, but so many families in Northeast Ohio are caring for a loved one with a brain injury, too.  It is life altering and exhausting.  I wanted the money to stay here and directly help people here."
"I'm amazed at the turnout and support, and that so many people saw the opportunity to help with such a good cause while taking steps to a healthier lifestyle," said photojournalist and race organizer Doug Herrmann.
The FOX Trot will become an annual event and will benefit a different charity each year.