This is an archived article and the information in the article may be outdated. Please look at the time stamp on the story to see when it was last updated.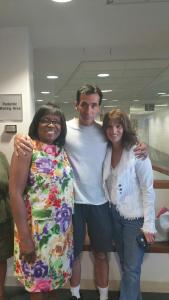 CLEVELAND, Ohio — Fox 8's Ed Gallek is doing excellent after a more than 12-hour brain surgery at the Cleveland Clinic Wednesday.
Ed and his wife, Fox 8's Peggy Gallek, found out in late June that he had what doctors believe was a non-cancerous brain tumor. The discovery started with facial pain — doctors discovered the tumor behind his ear after an MRI.
Ed's surgery started at around 10 a.m. Wednesday and wrapped up around 10:30 p.m. Doctors were able to remove almost all of the tumor from his brain and say that his prognosis is excellent.
Ed will be in the hospital recovering for three to five days. He hopes to be back at work some time in August.
Peggy and Ed want their friends and family as well as viewers to know how much they appreciate all of the good thoughts, prayers and well wishes sent their way. They also thank Dr. Thomas Haberkamp and Dr. Pablo Recinos at the Cleveland Clinic.
We can't wait to see Peggy and Ed back here at Fox 8!
Read more on the surgery here.