This is an archived article and the information in the article may be outdated. Please look at the time stamp on the story to see when it was last updated.
SANDUSKY, Ohio -- If you are looking for some fun this Memorial Day weekend, Cedar Point's newest ride may be the place for you.
The new thrill is called GateKeeper and it's the park's 16th roller coaster.
The $30 million ride can be seen as soon as you walk into the new main gate at Cedar Point in Sandusky.
Once you are strapped in, GateKeeper will take you to speeds of almost 70 mph and will dangle you 70 feet above Cedar Point Beach before dropping the coaster within six feet of the ground.
"Oh, it's awesome.  It's just so smooth, there's no jerks.  I love all the inversions, it's just awesome," said Judy McClendon of Charlotte, North Carolina.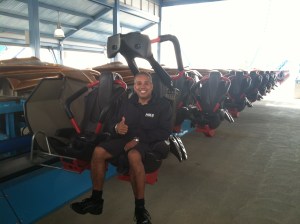 "Ah, the ride is awesome.  You are just flying through the sky and float in your seat, it's just a great ride," said William Galloway of Sandusky.
Since Gatekeeper was such a hit with the crowds, Fox 8's Enrique Correa decided to take the coaster for a test drive.
Once you get to the top of the ride, you can see the whole park then you are dropped into six different inversions and rolling hills give you the feeling of weightlessness.
The ride is a blast and Enrique recommends coaster fans check it out the next time they are at Cedar Point.
By the way, GateKeeper is the longest wing roller coaster in the world.