This is an archived article and the information in the article may be outdated. Please look at the time stamp on the story to see when it was last updated.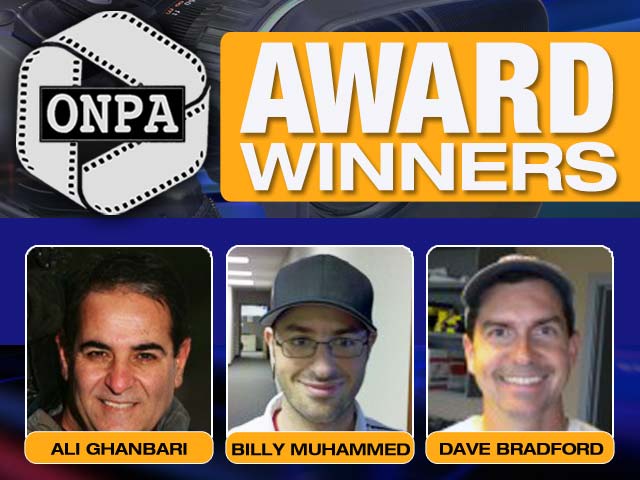 CLEVELAND, Ohio — Viewers might recognize Fox 8's own who appear in front of the camera.
But our behind-the-scenes talent is also getting some attention for their hard work telling stories through video and images.
The Ohio News Photographers Association has recognized several Fox 8 photojournalists for their work in 2013.
The ONPA Photographer of the Year is FOX 8's own Ali Ghanbari. FOX 8 photojournalists David Bradford and Billy Muhammed came in fourth and fifth place, respectively, in the ONPA Photographer of the Year category.
And FOX 8 was named Station of the Year by ONPA.
Ghanbari and Bradford were also the recipients of several awards through the National Press Photographers Association for 2013.
All their honors are listed below. Click on the links to view each piece of their award-winning work:
Ali Ghanbari
— ONPA First Place for 48 hours; NPPA Third Place for News Feature; NPPA finalist for Deadline News:  "Before I Die"
— NPPA Honorable Mention for News Feature: "Healing Nest"
— ONPA First Place for General News; NPPA Second Place for General News; and NPPA Finalist for Deadline News: "This Wall is Awesome"
— ONPA Second Place for In-Depth; NPPA Second Place for News Feature: "U'r Fight Start & End Here!"
— NPPA Third Place for Deadline News: "Season of the Spirit"
— ONPA First Place for Personality Profile; NPPA First Place for News Feature; NPPA finalist for 48 Hour Feature: "Happy Feet"
— ONPA Second Place for Spot News: "Memories Up in Smoke"
David Bradford
— ONPA Third Place for 48 hour story; NPPA Honorable Mention for 48 Hours News Feature; and finalist for 48 Hour Feature: "Poetry Man"
— ONPA Honorable Mention for General News: "Sisterly Love"
— NPPA Finalist for 48-Hour Feature: "Akron Rubber Bowl Auction"
— ONPA Third Place for In-Depth: "Pizza Guy Caught"
— ONPA Honorable Mention for Personality Profile: "Food Typographer"
— ONPA Honorable Mention for Spot News: "Sumner Fest Gone Wild"
Billy Muhammed
— ONPA Third Place for Spot News: "Canton Fire"
Several Fox 8 photographers have been named ONPA Photographer of the Year over the last several years. That list is as follows:
2013: Ali Ghanbari
2012: Ali Ghanbari
2011: Ali Ghanbari
2010: Ali Ghanbari
2007: David Bradford
2006: David Bradford
2005: David Bradford
2004: Doug Herrman
2003: Ali Ghanbari
2001: Chris Reece
1999: Chris Reece
1998: Ali Ghanbari
1997: Ali Ghanbari
1995: Ali Ghanbari