This is an archived article and the information in the article may be outdated. Please look at the time stamp on the story to see when it was last updated.
CLEVELAND– We'd like to introduce you to a special child with a very special wish and thanks to a local organization and the Cleveland Division of Police, this little boy's dream will come true on Thursday.
CJ DeJohn is 6 years old and when he grows up, he wants to be a police officer. The kindergartner was born with a rare congenital heart condition that occurs in approximately one in 5,000 babies.
Basically, he has half a heart.
"I actually didn't get to hold him until he was a few days old. And his first open heart surgery was at five days old," his mother Whitney DeJohn said.
He had another heart surgery at six months old. His parents were anxious and afraid.
"During the third open heart surgery, he actually had a stroke during the surgery. Subsequent seizures during that. He was paralyzed on his left side," CJ's mom said.
His recovery hasn't been easy.
"Sometimes he'll say, 'Why me?'" Whitney DeJohn said.
"He's frustrated that he can't run as fast as the other kids," Carl DeJohn told FOX 8 News.
Cleveland-based A Special Wish Foundation, which grants wishes for children with life-threatening illnesses, has joined forces with Cleveland police and FOX 8 News to make CJ police chief for a day.
He'll ride in a police car, meet the SWAT team and even solve a crime.
"We're not sure if he can actually be a police officer with his heart condition so that's why we think it's a really special thing," Whitney DeJohn said.
If you want to help support CJ as he becomes Cleveland Police Chief on Thursday, come to Tower City at 11:15 a.m., Gateway Plaza at 2:15 p.m. or the Rock and Roll Hall of Fame Plaza at 3:15 p.m.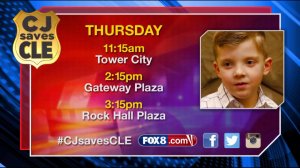 You can keep tabs on CJ's Special Wish by following us on Twitter and Instagram, and using the hashtag #CJSavesCLE