This is an archived article and the information in the article may be outdated. Please look at the time stamp on the story to see when it was last updated.
Sometimes it's scary to think just how much life can change in the blink of an eye. One area family found out just how true that is after their son was diagnosed with a very serious form of brain cancer.
Thanks to the FOX 8 FOX Trot, Northeast Ohio can make a difference for those battling cancer, and also for their loved ones.
 *Watch Bill Martin's report above for more*
This year, all proceeds from the FOX 8 FOX Trot will be donated directly to 'Prayers From Maria'; it's a non-profit organization that is planting  Seeds of Hope for children battling a deadly disease.
It all started here in Northeast Ohio with one little girl's precious prayers: 'Prayers from Maria.'
***CLICK HERE TO REGISTER FOR THE 2015 FOX 8 FOX TROT***
The third annual FOX 8 FOX Trot is presented by your Northern Ohio Honda Dealers.
It will take place on Sunday morning, Aug. 30, once again at Voinovich Park right by the Rock Hall.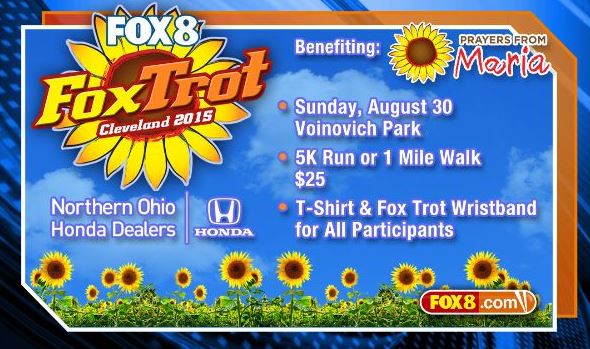 Continuing coverage on the 2015 FOX 8 FOX Trot.