This is an archived article and the information in the article may be outdated. Please look at the time stamp on the story to see when it was last updated.
NORTH ROYALTON, Ohio — When you're told your chemotherapy treatments will cause your hair to fall out in 10-14 days, Day 9 is a big day.
Tiffany Baumann Cantelupe made Day 9 even bigger when she decided that the hair would go on her terms.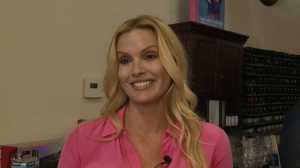 "So I just decided, instead of letting the drug take my hair, to take it myself and celebrate life with my wonderful friends and family here today," she told Fox 8 News.
Baumann Cantelupe, 35, was diagnosed with an aggressive form of breast cancer on Aug. 10.
Just over a month later, the former Miss Ohio, model and actress sat down at Salon Enzo in North Royalton on Friday for a makeover unlike any other.
"I'm so excited, I feel so strong, I'm ready to go and my newest saying is 'I got this,'" she said of her plan.
It had been nine days since she started chemotherapy, so in an act of strength and defiance, Baumann Cantelupe had her long, blonde hair cut off.  What remained was buzzed.
"Everything I've ever done I've always been a fighter, and this is just another notch under the belt," she said with inspiring confidence.  "Maybe I can be some source of hope for (others) and hopefully help another individual that's in the same situation."
Baumann Cantelupe's hair will be donated to Locks of Love.