This is an archived article and the information in the article may be outdated. Please look at the time stamp on the story to see when it was last updated.
CLEVELAND-- Former Congressman Louis Stokes was laid to rest on Tuesday. Stokes died last week at the age of 90 after a battle with cancer.
Stokes' funeral was held at Olivet Institutional Baptist Church on Quincy Avenue. (For the funeral program,  click here.)
The funeral was attended by Vice President Joe Biden, Cleveland Mayor Frank Jackson, U.S. Rep. Marcia Fudge, U.S. Sen. Rob Portman, U.S. Sen. Sherrod Brown, Ohio Attorney General Mike DeWine, Cleveland Cleveland CEO Toby Cosgrove, U.S. Rep. Maxine Waters of California, U.S. Rep. Bobby Scott from Virginia and U.S. Rep. Jim Clyburn of South Carolina.
Officials remember Louis Stokes
"Louis Stokes, thank God, never embraced the shallow notion he should be like everyone else," Fudge said. "Like you, I prefer stars that don't burn out quickly. Louis' star still shines."
"If Louis Stokes in not in heaven, most of us should forget about it."
Stokes' grandchildren, Eric Hammond, Kelley Stokes and Nicolette Thompson, shared memories of their grandfather as they celebrated his life.
"Granddad wrote the book on how to be a father and a grandfather. That's why I called him Superman," Hammond said. "After all, Superman was from Cleveland."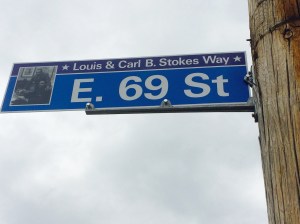 After the funeral, East 69th Street was renamed Louis and Carl B. Stokes Way.
With a flag over his head and a city-provided honor guard standing over him, Stokes laid in state at Cleveland City Hall on Monday. After the viewing, there was an "In Appreciation" event featuring a Kappa Alpha Psi tribute as well as remarks from the city and his family.
Stokes served in World War II  and attended Cleveland Marshall Law School before becoming a member of the U.S. House of Representatives. He retired in 1999 after representing the city of Cleveland and east-side communities for 30 years.
(Photo: Jim Pijor/Fox 8 News)

(Fox 8 photo)

(Fox 8 photo)

(Fox 8 photo)

(Fox 8 photo)

(Fox 8 photo)

(Fox 8 photo)

(Fox 8 photo)

(Fox 8 photo)

Marcia Fudge (Fox 8 photo)

Grandson Eric Hammond (Fox 8 photo)

Granddaughter Kelley Stokes (Fox 8 photo)

Granddaughter Nicolette Thompson (Fox 8 photo)

Reverend Dr. Otis Moss Jr. (Fox 8 photo)

(Photo: Roc Woodrum/Fox 8 News)

(Photo: Roc Woodrum/Fox 8 News)

(Photo: Roc Woodrum/Fox 8 News)
Read stories on Louis Stokes here.