This is an archived article and the information in the article may be outdated. Please look at the time stamp on the story to see when it was last updated.
AGRA, India — The Duke and Duchess of Cambridge invoked nostalgia Saturday as they sat and smiled for photos on the same marble bench in front of the Taj Mahal where Prince William's late mother, Princess Diana, had posed alone for a memorable 1992 photo.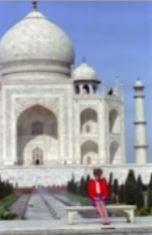 Winding down their week-long royal tour of India and Bhutan, William and his wife, the former Kate Middleton, were briefed by a guide as they entered the compound that houses the iconic monument to love.
William and Kate were well aware of the significance of their visit, according to a statement released by them and reported by Mashable: "The Duke of Cambridge is of course aware of the huge esteem his mother, the late Princess of Wales, is held in in India and he appreciates the status of the images that exist of the Princess at the Taj.
"He feels incredibly lucky to visit a place where his mother's memory is kept alive by so many who travel there.
"Twenty-four years on from her visit to the Taj, the duke and the duchess are looking forward to seeing this beautiful place for themselves and creating some new memories as they say thank you to the people of India at the conclusion of this tour."
Agra is the last stop on the royal couple's weeklong visit to India.