This is an archived article and the information in the article may be outdated. Please look at the time stamp on the story to see when it was last updated.
BELLVILLE, Ohio -- For the second time in a 24 hour period, people in Richland County were on high alert Tuesday night.
The sheriff's department, Bellville Police Department and Bellville Fire Department were in a race against time, closing down roads and warning residents before the rivers and creek beds once again flash flooded.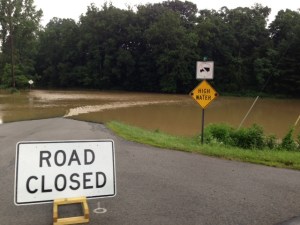 Surrounding communities and their respective rescue workers were also mobilized to try and keep a handle on any evacuations and all street closures.
Sheriff's Deputy Scott Kotterman said one minute he was monitoring the Clear Fork River at W97 and S13 and the next he was shutting it down to traffic and clearing people out of the vicinity.
"This is the highest it's been so far," said Deputy Kotterman. "So we're worried about these businesses back here; it's probably risen a foot in the last 22 minutes."
Multiple businesses placed sandbags around their buildings and then evacuated the area hoping for the best.
Abraham Sikes with the street department said, "We are probably going to  keep the roads shut down tonight all night and all day tomorrow."
Bellville and Shelby were hit the hardest in the storms.
The pounding continuous rain overnight Monday into Tuesday caused severe flooding in both  communities and beyond.
The Shelby High School stadium looked more like a giant lake than ball field.
But the weather was toughest on people living next to the rising waters.
Katy Zone Carver said, "I probably won't go to sleep tonight; I'll be watching the water."
She and her family live right next to Clear Fork River in Bellville which is actually usually a low creek but turned into a raging and rapidly flowing and growing body of water, several feet above flood stage.
"And one house between me and the creek and the water is rising; it's a little scary," said Katy.
With multiple state routes closing down for the second time and the rising waters quickly covering other side streets, the sheriff's department warned people not to attempt driving across the water.
"It can wash your car away in a heartbeat," said Deputy Kotterman. "People can be trapped; it can shut your engine down and you're trapped and we can't get to everyone on every road."
Authorities asked people to keep a close on the conditions, storms and flooding. They want people to stay off the roads but to also be prepared just in case they need to evacuate.
The American Red Cross staged a temporary shelter at the Jefferson Bellville Fire Department at 470 Main Street for anyone who needed a place to stay.
The Red Cross also has 700 cots at the readiness center located at 39 N. Park Street in Mansfield. They also have bottled water and cleaning kits for residents, as well.
*Read more on Richland County flooding here.