This is an archived article and the information in the article may be outdated. Please look at the time stamp on the story to see when it was last updated.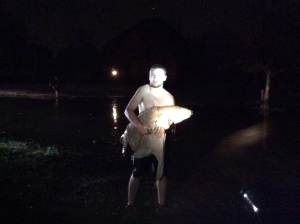 NORTH ROYALTON, Ohio– A teenager catches a river monster in floodwaters in North Royalton.
Jake Sawyer's mom told FOX 8 that her 16-year-old son caught the fish on Queens Way.
The 3-foot, 30-lb. fish was stranded in 3 feet of water.
Jake picked up the huge fish and carried it to a nearby pond, where it would be safe.