This is an archived article and the information in the article may be outdated. Please look at the time stamp on the story to see when it was last updated.
CLEVELAND- Several couples were married Friday afternoon in Cuyahoga County Probate Court after the U.S. Supreme Court's ruling that states cannot ban same-sex marriage.
Chris Richardson and Keith Garrett became the first same-sex couple to marry in Cleveland. The pair were in tears as they embraced at the end of the short ceremony, performed by Probate Judge Anthony J. Russo.
"After 18 years, to have our relationship legally recognized is, it's still taking time to sink in,"  Richardson said. "There's really no words. It was a very emotional time."
The pair was prepared for a wedding ceremony in the event the Supreme Court ruled on Friday. They contacted their bosses and had a wedding photographer ready, while their friends are on standby to celebrate.
"I was trying to just remain calm and just get the words out," Garrett said. "Anyone who's ever gotten married has probably experienced that."
The newlyweds were happy to be the first in what they hope is a long line of couples to be legally married in Cleveland.
"Gay people still struggle in this country for equal protection in the workplace, in housing," Garrett said, adding this is a huge step.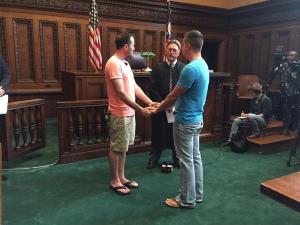 Jamie Moore and Tim Scott were the second same-sex couple to get married in Cleveland. They were happily making jokes as they filed out their marriage license, saying things like "I don't know, I've never been married before."
"It's overwhelming because we're equal. We're like everyone else and that's all we've ever asked for," Moore said. He mentioned that they can now properly plan the rest of their lives together and visit each other in the hospital, if either one falls ill.
"We never wanted to intrude on anybody else's life, we just want to know that legally for us, this means the rest of the nation can recognize us as husband and husband," said Moore, who has been with Scott for about a decade.