This is an archived article and the information in the article may be outdated. Please look at the time stamp on the story to see when it was last updated.
MINNEAPOLIS, MN – The first day of 2018 spring is today!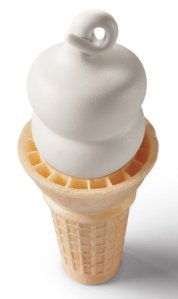 What better way to celebrate the return of (hopefully) warmer weather than with a free ice cream cone?
Dairy Queen agrees and is giving away free ice cream cones to celebrate!
Participating non-mall Dairy Queen and DQ Grill & Chill locations across the U.S. will celebrate the Fourth Annual Free Cone Day on Tuesday.
Ice cream fans will enjoy a free small vanilla soft serve cone with the signature DQ curl on top (limit one per customer while supplies last).
At the same time, participating locations also will collect donations for local Children's Miracle Network Hospitals. Last year,  Dairy Queen contributed nearly $300,000 in one day for local hospitals.
[protected-iframe id="094a666e2e7d52b6a6c1dbc8b4f4bc18-28572381-80973872″ info="//players.brightcove.net/1660653193/default_default/index.html?videoId=5750725426001″ frameborder="0″ allowfullscreen=""]