This is an archived article and the information in the article may be outdated. Please look at the time stamp on the story to see when it was last updated.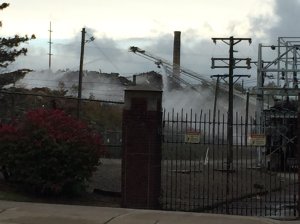 EAST CLEVELAND — Firefighters in East Cleveland are on the scene of a landfill fire on Noble Road.
Euclid Avenue is closed between Noble and Ivanhoe roads because of the blaze. Thick smoke could be seen billowing from a large pile of trash.
Crews activated a ladder truck to stay on top of the fire.
Firefighters from South Euclid and other cities responded to assist East Cleveland.
The fire was contained shortly before 2 p.m. and firefighters, along with representatives from The Cuyahoga County Board of Health and the Ohio Environmental Protection Agency were on the scene.
There is no danger or public health threat to residents, but officials are asking the public to stay away from the site in order to let firefighters continue their work.
The EPA has released the following statement about the landfill site:
Since Ohio EPA closed the Arco site, it has been working with local partners to safeguard the residents of East Cleveland and remove the C&DD materials left onsite. The Agency has allocated $6 million to remove the material from the site and significant resources to ensure that the facility is not adversely impacting the surrounding community.

Air monitoring of particulate matter has been ongoing throughout the excavation process and will continue throughout the response to this thermal reaction. Additional testing is being conducted to ensure that there are no unforeseen issues as a result of this incident.
The City of Cleveland also released a statement:
"The City of Cleveland was alerted to an active fire today at the recently closed Arco facility in East Cleveland. The East Cleveland Fire Department and the Ohio EPA are the lead agencies on this matter.

We have been working with our partners at the EPA, the City of East Cleveland and the Cuyahoga County Board of Health to oversee the mitigation of cleanup and removal of the material from this site. The Ohio EPA has allocated more than $6 million to assist in this effort.

Out of an abundance of caution, the City of Cleveland today sent staff to install air quality monitoring equipment onsite and in the surrounding community. The City of Cleveland is in agreement with the Ohio EPA's findings that none of the air quality results collected so far show any health concerns for residents near the site.

The East Cleveland fire department remains onsite, and the fire is under control. The safety of all residents is our primary concern and we stand ready to assist the City of East Cleveland."