This is an archived article and the information in the article may be outdated. Please look at the time stamp on the story to see when it was last updated.
MEDINA TWP., Ohio — Several firefighters were awarded commendations for their heroic efforts to help two people trapped in peril by a fast-moving spring storm — including our own Dick Goddard.
At a Flag Day ceremony Saturday, the firefighters were honored for their rapid response last month to one resident who was in his car "with water up to his neck" – that was Dick Goddard – and another person who was trapped in a tree.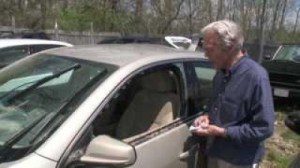 Firefighters were able to get both to safety.
Those awards were among 15 handed out to the safety services. Fourteen were given to firefighters, and one was given to a police officer.
Speakers asked those in attendance to remember, on this Flag Day, all those who put their lives on the line for others, whether here at home as in the case of the firefighters, or overseas in the military.
In addition, and in keeping with a tradition, the ceremony also honored winners of a fourth-grade flag essay contest, as well as a flag design contest.
For more on Dick Goddard's water rescue, click here.