This is an archived article and the information in the article may be outdated. Please look at the time stamp on the story to see when it was last updated.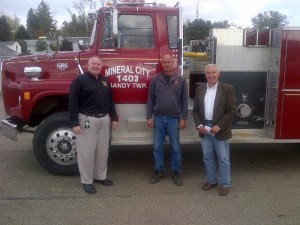 MINERAL CITY, OH- A fire department destroyed by a July 10, 2013 tornado is getting a helping hand from the State Fire Marshal, and company, MN8-Foxfire.
They will provide products and equipment to the Mineral City Volunteer Fire Department.
The department is still without a permanent facility to operate out of, more than three months after a tornado hit.
State Fire Marshal Larry Flowers visited Mineral City and discussed several grant and loan programs available to the department, as well as training options by the Ohio Fire Academy.
12 smoke detectors were also donated to be used throughout the village.
"When a community suffers a blow like this, it is important that those with the resources to help step up," said Marshal Flowers. "Our friends at MN8-Foxfire asked us to identify an at-need fire department, and we knew that Mineral City could use some help."
MN8-Foxfire is a firefighter-owned company headquartered outside of Cincinnati. The company makes energy efficient and eco-friendly products with advanced photoluminescent technology for firefighters.
"It is with deep honor and gratitude that we are able to support our brother firefighters in Mineral City by donating a variety of our products so they can perform their job more safely," said Zachary Green, president of MN8-Foxfire.
Loans and grants like the one offered to Mineral City, are expected to be offered to fire departments throughout the state as part of a new budget for the next two years.