This is an archived article and the information in the article may be outdated. Please look at the time stamp on the story to see when it was last updated.
Cleveland, Ohio — Christmas is almost here!
This week, we're sharing the favorite Christmas cookie recipes and memories of the members of Fox 8's own morning show staff and a former morning show anchor, who you now in the afternoon and at night!
Whether they were for cookies or pies, everyone had a Christmas dessert recipe that they remember best from over the years or make each year with their families.
Check out the recipes below: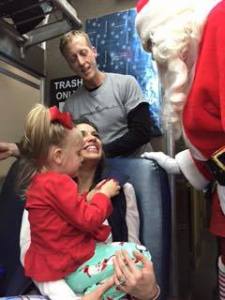 Kristi Capel: Cornflake Wreaths (makes up to 16 wreaths)
Kristi looks most forward to her Grandma Bocca's 'Cornflake Wreaths' every Christmas. Here is the recipe:
Ingredients:
— 1/3 cup of butter
— 4 cups of mini-marshmallows
–1 teaspoon green food coloring
— 6 cups corn flakes
— Red M&Ms
Instructions:
— Put corn flakes in a large bowl
— Melt butter over low heat.
— Add marshmallows to melted butter and stir until they are completely melted. Add green food coloring
— Pour mixture into the corn flakes, making sure all flakes are coated.
— Drop spoonfuls of the mixture onto parchment paper or wax paper.
— Shape each spoonful into a round wreath and top each wreath with the M&Ms.
Kenny Crumpton: Chocolate pie
Kenny  most loves a classic chocolate pie topped with whipped cream. He said his aunt makes the best chocolate pie!
Ingredients:
— 2/3 cup sugar
— 3 cups of milk
— 1/3 cup cornstarch
— 1/2 tsp. salt
— 4 egg yolks
— 1 tbl. vanilla extract
— 2 cups of chocolate chips
— 2 tbl. butter/margerine
Instructions: 
— Mix sugar, salt and cornstarch in pan.
— In a separate bowl, mix egg yolks and milk.
— Combine eggs/milk with sugar mix in pan.
— Cook over medium heat until boiling. Boil for one minute. Remove from heat and mix in butter, vanilla and chocolate chips. Melt together.
— Pour into shell, and refrigerate until the filling is firm.
— Top with lots of whipped cream!
Jessica Dill: Pre-shaped cut-out cookies
Looking for an easy yet creative way to make all your friends think you're really good at baking? Jessica has the solution!
Gordon Food Service Marketplace holiday pre-shaped cutout cookie dough! It's easy, fast, adorable and really good if you need A LOT of cookies.
Ingredients:
— Box of pre-shaped cookie dough from GSF Marketplace. I get the sugar cookies shaped as trees, bells and stars and a separate box of Gingerbread Men. Around 70 come in a box.
— Baking Spray and Baking Sheets
— Icing — I use 3 kinds. One container of each the Red and Green Holiday Frosting from GSF. And one container of white cream cheese whipped icing.
— Red and green sprinkles
Instructions:
— Preheat oven to 375 degrees
— Spray Baking Sheets with baking spray
— Place pre-shaped cookies on baking sheet, a half an inch apart
— Bake cookies for 10 minutes, rotating the tray at the 5 minute mark. I usually put two pans in at one time and flip which row they are on at 5 minutes.
— Let cookies harden outside oven for at least 10 minutes. (It's easier to add the icing when the cookies are cooler)
— Add the icing and have fun decorating! Mix up the colors to give the plate of cookies a fun Christmas look. Have fun with it- especially with the gingerbread men. You can give them faces and personalities.
— Add the sprinkles quickly after the icing. If you add the sprinkles too late they won't stick on the cookies!
This recipe is a great mix of easy and yet original! Yummy.
Wayne Dawson: Sweet potato pie
Wayne loves his wife's sweet potato pie! It's a real treat when his family gets to eat it during the holidays.
Ingredients: 
— 1 pie crust
— 2 cups mashed sweet potatoes
— 3/4 cup brown sugar
— 1 1/3 tsp. ground coriander
— 1/2 tsp. nutmeg
— 1/2 tsp. cinnamon
— 1/4 tsp. salt
— 1/4 cup unsalted butter
— 1 1/4 cup evaporated milk
— 1/3 cup sugar
— 3 eggs
— 1 tbsp. vanilla extract
Instructions: 
— Put cooked sweet potatoes into pot and mix in brown sugar, spices, salt, butter and half of the evaporated milk. Mash potatoes and simmer over a low flame until the mixture is smooth. Then cool.
— In a separate bowl, whisk remainder of evaporated milk, eggs, sugar and vanilla. Pour into the mashed sweet potatoes.
— Pour filling into pie crust.
— Bake for 10 minutes at 375 degrees. Reduce heat to 325 degrees and bake 45-50 minutes or until the pie is cooked through and firm.
AJ Colby: Tart shells
AJ says his mother's recipe for tart shells is his favorite during the holidays. And he shared photos of his mom's actual recipe card!
Stefani Schaefer: Layer Bars and Buckeyes
Stefani loves baking with her kids! Here she shares her favorite recipes for layer bars and Buckeyes. Yum!
Layer bars
Ingredients:
— ½ cup butter
— 2 ½ cups graham cracker crumbs
— 1 ½ chopped nuts
— 1 ½ cups coconut
— 1 ¾ cups semisweet chocolate chips
— 14 oz sweetened condensed milk
Instructions:
— Preheat oven to 350 degrees
— Melt the butter in a 13-inch by 9-inch pan in the oven. After removing the pan, sprinkle graham crackers over the butter and stir. Press the mixture into the bottom of the pan. Layer coconut, nuts and chips, then pour the condensed milk on top. Bake for 25 minutes, then let cool.
Buckeyes 
Ingredients: 
— 1 ½ cups peanut butter
— 6 cups confectioner's sugar
— 1 cup softened butter
— ½ teaspoon vanilla extract
— 4 cups semisweet chocolate chips
Instructions:
Mix butter, peanut butter, sugar and vanilla extract. Roll the dough into one-inch balls and place them on a cookie sheet covered in wax paper. Put a toothpick in each dough ball and chill them in the freezer for about 30 minutes. Melt chocolate chips and stir until smooth. Dip the dough balls into the melted chocolate using the toothpicks. Leave a circle on the top uncovered. Put the balls back on the cookie sheet and place in the refrigerator for about two hours.
Todd Meany: Vicky's Coconut Christmas Cookies
Todd's mother, Vicky, joined us on Saturday and shared her recipe for coconut Christmas cookies.
Ingredients:
— 2 cups sifted flour
— 1/2 tsp salt
— 1 cup butter
— 1 cup sugar
— 1 tsp vanilla
— 1 1/2 cups shredded coconut
Instructions:
— Sift flour with salt. Cream butter and sugar until light and fluffy. Add vanilla.  Work in flour mixture and coconut. Blend well.
— Shape dough into a roll about 2′ in diameter. Wrap securely in plastic wrap and chill overnight.
— When ready to bake, slice into 1/4′ slices.
— Place on lightly buttered cookie sheet or parchment lined sheet.
— Bake in 300 degree oven about 20 minutes or until lightly browned.
— For an added touch, dip on end in chocolate flavor of your choice.
To watch the segment with Todd and Vicky,  click here. 
Tracy McCool: Peppermint Meltaways Recipe
TOTAL TIME: Prep: 30 min. + chilling Bake: 10 min./batch + cooling
MAKES: 30 servings
Ingredients
1 cup butter, softened
1/2 cup confectioners' sugar
1/2 teaspoon peppermint extract
1-1/4 cups all-purpose flour
1/2 cup cornstarch
FROSTING:
2 tablespoons butter, softened
2 tablespoons 2% milk
1/4 teaspoon peppermint extract
2 to 3 drops red food coloring, optional
1-1/2 cups confectioners' sugar
1/2 cup crushed peppermint candies
Directions
In a small bowl, cream butter and confectioners' sugar until light and fluffy. Beat in extract. In another bowl, whisk flour and cornstarch; gradually beat into creamed mixture. Refrigerate, covered, 30 minutes or until firm enough to handle.
Preheat oven to 350°. Shape dough into 1-in. balls; place 2 in. apart on ungreased baking sheets. Bake 9-11 minutes or until bottoms are light brown. Remove from pans to wire racks to cool completely.
In a small bowl, beat butter until creamy. Beat in milk, extract and, if desired, food coloring. Gradually beat in confectioners' sugar until smooth. Spread over cookies; sprinkle with crushed candies. Store in an airtight container. Yield: about 2-1/2 dozen.