This is an archived article and the information in the article may be outdated. Please look at the time stamp on the story to see when it was last updated.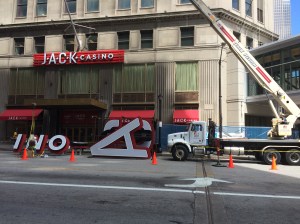 CLEVELAND– The last of the new signage for JACK will go up on the downtown Cleveland casino on Friday.
The 14-foot letters will be attached to the former Horseshoe Casino Cleveland at Prospect Avenue and Ontario Street.
The Horseshoe closed for 40 hours on May 9 to transfer daily operations from Caesars Entertainment and reopen
as JACK Cleveland Casino. Workers changed 200 signs and put new felt on gaming tables. They also swapped more than 407,000 chips, 31,000 decks of cards and 3,600 dice with the new logo.
Earlier this year, ThistleDown Racino made the switch to JACK.
JACK Entertainment also comes with a new rewards system, called ClubJACK. More information on the program can be found here.