This is an archived article and the information in the article may be outdated. Please look at the time stamp on the story to see when it was last updated.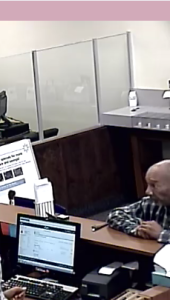 GARFIELD HEIGHTS, Ohio — The Cleveland Division of the FBI is searching for a man who robbed a US Bank in Garfield Heights Thursday morning.
It happened at around 9:15 at the branch in the 5000 block of Turney Road.
Officials say the male suspect came into the bank and demanded money from the teller, while motioning as if he had a concealed weapon.
The suspect then ordered the teller to count out the money as he got it out of the drawer. After receiving the money, the suspect instructed the teller not to press any buttons, walk away from the teller line and not look back.
The teller complied, and the suspect took off in an unknown direction from the bank.
The suspect is described as being 55-60 years old, 5'7-5'8" tall, about 170 lbs., with a bald head, grey stubble and goatee, and a pock-marked face. He was wearing blue jeans and a plaid long-sleeved shirt.
Anyone with information is asked to call the Cleveland Division of FBI at (216) 522-1400 or Garfield Heights Police Department at (216) 475-5686.