This is an archived article and the information in the article may be outdated. Please look at the time stamp on the story to see when it was last updated.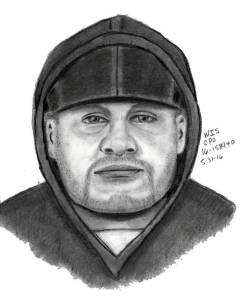 CLEVELAND, Ohio -- Authorities have released a composite sketch of a person of interest in an abduction in Cleveland and an attempted abduction in Elyria.
The person is believed to have been seen in the neighborhood near where a six-year-old girl was abducted in Cleveland on May 21.
An FBI spokesperson says the sketch was created with help from a neighbor living near West 104th Street, who spoke with the person of interest the day of the Cleveland kidnapping. The neighbor asked the man what he was doing in his yard, and the person replied, "waiting to be picked up," according to the spokesperson.
The 6-year-old girl was taken from her home in the 3000 block of West 104th Street early in the morning on May 21. She was found safe around 9:30 p.m. that day after being held for more than 17 hours.
Authorities say the suspect in the girl's abduction was positively linked to an attempted abduction in Elyria on Feb. 25.
In that incident, agents say the suspect tried to pull a 10-year-old girl through her bedroom window. The victim was able to get away and woke her father, who called police.
Around the same time, there were reports of a man approaching girls in nearby Lorain, but authorities never said if they were connected.
A reward of up to $20,000 is available for information leading to the successful identification and prosecution of the person responsible in the abduction/attempted abduction.
Tips can be provided to a special confidential tip line at 216-622-6842.