This is an archived article and the information in the article may be outdated. Please look at the time stamp on the story to see when it was last updated.
STRONGSVILLE, Ohio- The Cleveland Office of the FBI released a new photo on Tuesday in the armed robbery of a Strongsville jewelry store.
A man, armed with a silver revolver, robbed the Jared on Royalton Road at about 10:20 a.m. on June 25. According to the FBI, the suspect ordered the employees and customers to the floor, and forced the manager to open the display cases.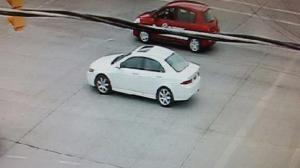 The man got away with several round-cut diamonds and walked to a white car parked near Panera Bread. The FBI said it appeared to be an older model Acura TSX. The new photo shows the car going east on state Route 82 towards Interstate 71.
The suspect was wearing a camouflage mask, a baseball cap, a tan jacket and black tennis shoes. He was also carrying a black bag.
The FBI said urges anyone who was in the area of Jared, Trivs Restaurant or Panera Bread on the date of the robbery to call authorities.
If you have information on the Jared robbery, please call the Cleveland Office of the FBI at 216-522-1400, the Strongsville Police Department at 440-580-3230 or Crime Stoppers at 216-252-7463.  Reward more is available for tips leading to an arrest.
Strongsville police released the following video last month:
[protected-iframe id="9469e7cc4c1a64913b9a67bbdec73724-28572381-80973872″ info="http://livestream.com/accounts/5390462/events/4156450/videos/91419780/player?autoPlay=false&height=360&mute=false&width=640″ width="640″ height="360″ frameborder="0″ scrolling="no"]
More stories on the Jared robbery here