This is an archived article and the information in the article may be outdated. Please look at the time stamp on the story to see when it was last updated.
NORTH RIDGEVILLE, Ohio-- Dozens of FBI agents and police were in a North Ridgeville neighborhood Thursday trying to determine if an April 2015 child abduction case here is linked to a Cleveland case and attempted abduction case in Elyria.
"We are doing our due diligence. We are asking the neighborhood for any information," said FBI Special Agent Vicki Anderson.
Neighbors told the Fox 8 I-Team they were shocked when they saw the agents and were told about the case.
"I was kinda surprised to hear it happened here; I haven't seen it in the newspaper or television news," said Jeff Nimon.
Sources tell Fox 8 the case was sent to the FBI to determine if it's connected to the recent abduction of a 6-year-old Cleveland girl and an attempted abduction of a young girl in Lorain County.
Anderson said they don't know if the cases are connected.
"This individual in North Ridgeville went into the house at night and took the little girl out of the house," Anderson said .
The girl was able to get away and return home.
Neighbors say they are concerned.  "It definitely makes me think and makes me nervous," said Miranda Mykytiak.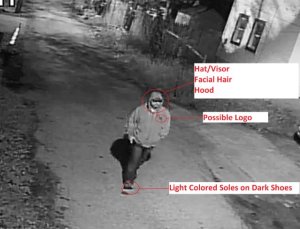 The FBI released security video of a person of interest that they want to talk to in connection with the Cleveland abduction.
The person is believed to have been seen in the neighborhood near where the 6-year-old was abducted in Cleveland on May 21.
Anyone with information on any of the cases is asked to call police or the FBI as soon as possible.