This is an archived article and the information in the article may be outdated. Please look at the time stamp on the story to see when it was last updated.
CLEVELAND– Get ready, Cleveland sports fans, plans are in the work for another big downtown parade.
The event is to celebrate the Cleveland Browns' perfect season, as they inch closer to a winless record.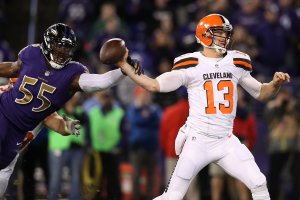 Thursday night's loss to the Baltimore Ravens leaves the Browns with an 0-10 record, the worst in franchise history.
"I've been either blessed or cursed to be a Browns fan for the rest of my life," Chris McNeil said.
McNeil said about a week ago, he jokingly thought about celebrating the Browns' season with a parade, if they went a perfect winless 0 and 16.
"It really caught on. People started talking about the idea and once I saw it's got a little momentum, I started up the Facebook page," he told FOX 8.
McNeil has officially filed for a permit from the city. The parade is scheduled for 1 p.m. beginning at FirstEnergy Stadium on Jan. 7.
The route is symbolic. It goes around the stadium, creating a zero and if you look closely at the map, the rest of the route creates the number 16.
"It's kind of changing the dialogue from the Browns being as bad as they are to now kind of looking at a positive about it. Of them actually doing something historic, albeit in a negative light, but doing something historic for our team," McNeil said.
So what do Browns fans think about a "perfect season" parade?
"I think a little disrespectful to the Cavaliers and the Monsters and the Indians who worked so hard to be victors," said one Browns fan.
"I can't see going to celebrate a losing season," said another fan.
"We should 100 percent celebrate them losing at this point because they can't get their stuff together," said a fan.
"You might as well be good at something, I mean, like the Browns' thing is losing, the Cavs is winning," another fan said.
"From a young age, this team has been a part of me and it will continue to be so, win or lose," McNeil said,
On Friday night, on his Facebook page, more than 7,000 people said they either planned to attend or were interested in attending the parade.