This is an archived article and the information in the article may be outdated. Please look at the time stamp on the story to see when it was last updated.
CHARDON, Ohio — The family of a Chardon teen who was killed in a single-vehicle car crash last week is raising money for two organizations that impacted the teen's life.
In a GoFundMe post, the family of Zachary St. Jean is asking people to make a donation instead of sending flowers.
St. Jean, 16, was killed in a single-car accident on Fairmount Boulevard in Hunting Valley last Thursday. Police said his car crossed the center line, hit a ditch, then went into a tree.
The family is raising money for Guiding Eyes for the Blind and The Chardon High School band.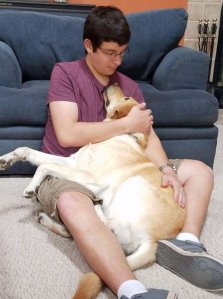 The family said Guiding Eyes for the Blind taught Zach "a new kind of responsibility."
He spent the past year training a dog named Hyde. The family said the two grew together and Zach "became a lot more outgoing."
The St. Jean family also said the Chardon High School Band gave Zach a friend group and a place to belong.
They said the band helped Zach become a "bubbly, hilarious, giving kid."
"We would love to give back to the groups that helped Zach become the beautiful kind person he will always be," the GoFundMe post said. "Thank you for the love, near and far. We appreciate every ounce of it during the difficult time."
On Tuesday, Zach's sister Emily made an appeal on Facebook for people to do something nice for others in Zach's honor.
Calling hours will be Saturday, June 3rd from 2 – 6 p.m. at the Chardon High School cafeteria followed by a "Celebration of Life" at 6 p.m. in the Chardon High School gym. The family is asking everyone who attends to wear red. They say it was Zach's favorite color.
*Click here to make a donation in Zach's memory