This is an archived article and the information in the article may be outdated. Please look at the time stamp on the story to see when it was last updated.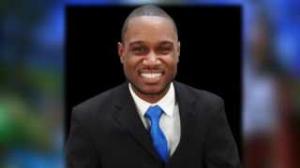 CLEVELAND, Ohio -- Do the right thing.
That is the message from Stephen Halton, Jr.'s family to anyone who knows who may have robbed and shot him while he walked to the bus stop early Saturday morning on his way to work at the Cleveland Clinic.
"Steve was such a good person, a good man," Stephen's high school friend Marissa Noydara said at a Thursday night vigil for the slain anesthesiology technician.
"He always was full of joy, full of love. He had two small children, a wife," family friend Tonya Baines said.
Halton, 30, was headed to work to help with an emergency liver transplant about 4:30 a.m.
He was found robbed and shot dead at the bus stop on Lakeshore Boulevard near East 153rd Street.
"I worked also on the liver kidney transplant board as a registered nurse and when you get the call you have to go - and he was going to save a life and lost his life - and it's just so tragic," Baines said.
"Yes, we may be crying. Yes, we may be in sorrow, but we got more strength here than ever before," his father, Stephen Halton, Sr., said to a crowd of more than 100 people at the vigil – just yards from where his son was robbed and murdered.
His father, a preacher, called on people in the neighborhood to step up.
"This is a time for us to stand up and stand together firm. Not just because of my son, but because your son, your daughter may be in jeopardy," Halton, Sr. said.
Cleveland police said there were a handful of other armed robberies in the area within a few days of Stephen's murder.
Cleveland Police District Five Commander Wayne Drummond said they have identified several suspects in the robberies. Two males, ages 16 and 20, are in custody, and police recovered a gun, Drummond said.
"It just can't be coincidental. I believe there's some involvement of these aggravated robberies by these individuals we have identified and arrested and this homicide that occurred, I'm hoping we can put it all together," Drummond said.
"There have been a lot of people that have not been able to speak that know exactly what's been going on. This is the time for you to step out of the pack," Halton, Sr. said.
"We have to do what's right. We have to do what's right. And in this community, whoever knows something, do what's right. Do what's right," the victim's sister, Tanesha Halton, said.
"Because he meant the world to us," Marissa Noydara said.
For extended coverage on this story, click here.