This is an archived article and the information in the article may be outdated. Please look at the time stamp on the story to see when it was last updated.
COLUMBUS, Ohio– There's a baby boom that's begun on social media sites, and that's not referring to any Hollywood baby bumps, baby drama, or even the royal baby.
Rather, for many people wanting to be parents, social media sites have become the preferred method of locating a baby for adoption.
Ohio attorney Tommy Taneff said these types of online connections for adoptions and surrogacies have become his main practice, constituting 25-30% of his work.
It's a trend he has been seeing across the country as well.
"If you're going to sit back and wait for somebody else to find a baby for you, you're going to wait forever," Taneff said.
One couple he worked with recently finalized the adoption of their baby girl in January.
"She found us through a friend of a friend of a friend who just happened to post our page," said Kristen Juth.
Kristen and her husband John had tried multiple fertility treatments for over six years with no success. When they decided to adopt, Taneff recommended they create a Facebook page, and spread the word through posts, re-posts and shares.
Kristen and John did not post too much personal information but they did include some of the painful events like when "near adoptions" fell through, or when they encountered scammers looking for money.
But they never gave up and then Sunday June 30, 2013, their lawyer called and said,  "Birth mom has given birth. She found your profile on Facebook and she wants you to have her baby, and you can take your daughter home from the hospital tomorrow."
John and Kristen became the proud parents of a beautiful baby girl, they named Madison.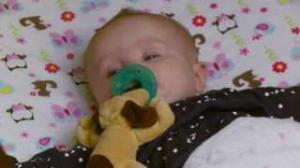 "I looked into those eyes and she was ours and it was amazing, an absolutely amazing feeling," said Kristen.
In January the adoption was finalized, after the six-month waiting period and the standard checks ordered by courts.
That type of quick adoption isn't normal but Taneff said this type of approach is faster and cheaper than traditional adoptions.
The Juths hope others are inspired by their journey and their only advice is to be patient, be strong and to hire a good attorney.
They say with due diligence and an open heart you too can have a happy ending.
"You're a family," said John. "You're complete. What you've been waiting for is finally here."
WEB EXTRA
If you are looking into online adoption, there are dos and don'ts. CLICK HERE for those.