This is an archived article and the information in the article may be outdated. Please look at the time stamp on the story to see when it was last updated.
CLEVELAND – Extreme heat hitting just as high school football season is heating up has prompted many coaches to make changes to practices.
Mayfield High School football players held practice at 5:30 a.m. Tuesday, moving practice to before the school day started for the first time due to heat.
"Safety's first and foremost," said head coach Ross Bandiera. "We want to keep our kids safe and hydrated."
Bandiera said he made the call Monday afternoon in order to keep his players cooler on the turf.
"The kids said it's Friday night lights, not Tuesday morning lights, but I think everyone was kind of energized by the morning practice, and I asked them at the end of practice today, 'do they want to do it tomorrow?' And they all said yeah."
At Willoughby South High School, where classes were canceled due to heat, practice moved into the air-conditioned gym Tuesday afternoon.
The heat index on the football field registered at 122 degrees, according to a device used by the school's athletic trainer.
"Obviously, everybody knows today is hot, but how hot really is it? That's where the gadgets and the other apps that are on phones really come in," said Lake Health Director of Sports Medicine John Smith, who oversees trainers at 14 high schools in Lake County.
The trainers recommend changes to team coaches and school athletic directors, including adjustments to practice attire and times.
"It really depends on the humidity, the wind that we're getting right now," Smith said. "Those things all play into effect."
The trainers are also equipped with Polar Life Pods, bags which can be filled with cold water to rapidly cool athletes suffering from heat exhaustion.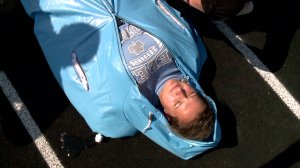 The youngest athletes need special care too. The Mentor Cardinal Youth Football Association counts on coaches to adjust practices and use their training to keep kids safe.
"Every head coach has water that they bring," league Vice President Shawn Van Huss said. "The key things are how are you practicing, so adjusting practice for heat, that means length of time, amount of equipment, types of drills."
Smith reminds that drinking plenty of water long before practice begins is key to staying hydrated.
Read more stories on this heat wave, here.